Orchard View Community Education Website Redesign
December 5th, 2011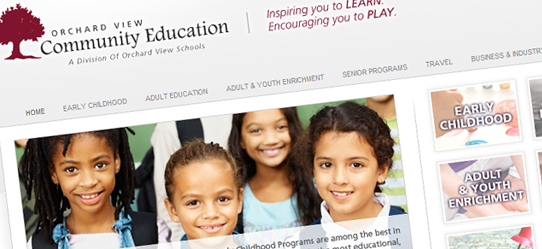 This summer we undertook a large-scale redesign project for a local organization, Orchard View Community Education, and are proud to announce the completion of our hard work: www.orchardviewce.org
Orchard View Community Education is a division of the Orchard View School district located in Muskegon, MI. They offer a variety of programs and services which cater to preschoolers through senior citizens; basically anyone and everyone in the local community and beyond. Some of their programs include youth enrichment, business and industry and even travel.
Our goal during this process was to revitalize the image of Orchard View Community Education by developing more of a modern and user-friendly interface. We wanted to showcase the extensive programs that they offer the community and appeal to each specific target market. It was also essential that users be able to easily access content relative to the program(s) that they are interested in as well as request additional information. The logo was also touched up for a more refined look and to differentiate the organization from the school system.
A Content Management System (CMS) was also implemented so that program heads could easily edit information as needed.
To see more of the website, please view OUR WORK or visit Orchard View Community Education.